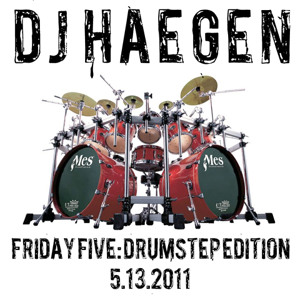 Drumstep. Yeah, its a thing.
Guess it's about time for a new "-step" to emerge. If you haven't heard the rumblings, Drumstep is to Drum N Bass what Dubstep is to Breaks - heavy and half-time. Drumstep is enough of a production style that it has registered on the Beatport charts as a theme, and it's listed on Wikipedia as a subgenre of Drum n' bass, but it's hard to know whether it is unique enough to take hold and grow into a defined style. While Dubstep's 65-70bpm plod felt at least sort of original (if not obnoxiously so to some), Drumstep hovers higher in the 85-95bpm range, which puts it a lot closer to Hip-Hop in head nod-ability.
I decided to explore it a bit to make up my own mind, and the result is this here podcast. Even though at the moment a lot of Drumstep tracks sound to me like good ol' DnB songs that got stuck in a breakdown, we do love our labels here in EDM-land so we might as well just stop quibbling over names and enjoy bangin' tracks right?
Right.
Friday Five - 5.13.2011 - Drumstep Edition by Hægen
Tracklist:
1. Tinie Tempah - Wonderman ft. Ellie Goulding (Bare Noize remix)
2. Beastie Boys - Watcha Want (StickBubbly remix)
3. Stephen Jacobs - Blind Dreams
4. Discosynthetique - Feelings of Disbelief (Farace's Believe in Drumstep remix)
5. Plan B - Love Goes Down (Doctor P remix)
7 Responses to "DJ Haegen - Friday Five: Drumstep Edition"